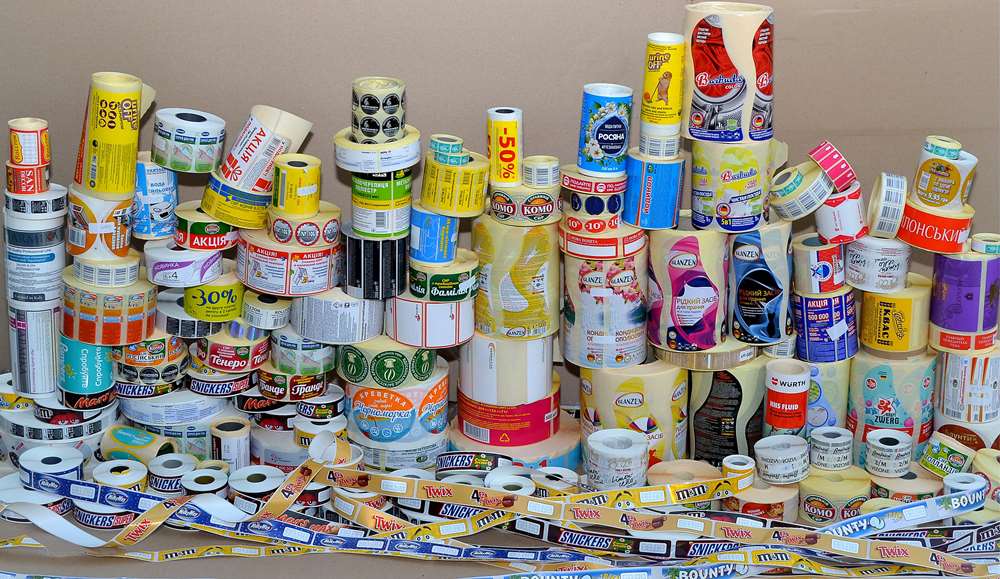 We are Company STICKER
Our company produces labels, stickers, custom printed tapes with logo, booklet labels, promotional labels, etc. We use all types of self-adhesive materials and we handle with different techniques, such as embossing, laminating, hologramming, numerating, scratch-off coating, printing on the adhesive layer, partial or complete deactivation of adhesive. We do job of different complexity. There are no impossible orders for us; there are those that need to spend more time and effort.
Our company has been working since 2003. From that time we have been using different printing and post-printing equipment and have been producing stickers, labels and tags on self-adhesive materials. As the owner and chief of the company I assure you that we do best to ensure that your label or sticker (as any other product on self-adhesive materials) will be exactly you need. We know that their tasks are to sell and to inform. Custom labels and stickers not only give information to others, but also try to influence their emotion. They are the product personality, the face of the manufacturer and of course the face of our company.
A little bit about the printing of self-adhesive continuous roll labels.
Application field of self-adhesive continuous roll labels is extremely diverse and covers goods from the food-manufacturing industry and liqueurs and spirits to the chemical industry.
A small label can solve many tasks: informing consumers, creating positive reputation of the manufacturer, accelerating the process of the identification of goods during the storage and the distribution. Today it is the obligatory attribute of each item.
Modern printing companies offer a huge variety of different labels with information, logos to the producers. They are made of different materials, have different characteristics, different sizes and shapes.
The one type of labels is self-adhesive continuous roll labels, which have gained popularity among consumers due to a number of indisputable advantages. Self-adhesive labels are suitable for use for automatic sticking-up, semi-automatic or manual sticking. Self-adhesive labels can be applied to the goods and packages with the different surface characteristics. Depending on the material of labels and the application technique of images, stickers do their work: perform information within the required time. They are able to withstand the conditions recommended for storage of the relevant products without losing the brightness and clarity of the image.
The main aim of the label is to attract customers' attention and inform them about the main product features, storage and application characteristics. In addition, a label can have information which is necessary for the automatic identification of goods by electronic reading devices. Thus self-adhesive labels should be not only simple and easy in use, but also contain a number of useful information and keep an attractive and aesthetic appearance.

Our experts take into account your wishes and features of goods for which self-adhesive labels are made, and will recommend the best choice of material and way of applying the image. According to your desire we will develop a label model, apply the text, and select the barcode, as well as other possible operations on the label for various purposes.
Motto of Sticker - No difficulties!
Yours faithfully "Sticker" Company
Director of "Sticker" Company: Bogdan Demchenko
tel: (097)789-87-87 - Flexo printing (roll printing, large editions)
tel: (067)361-78-47 -Digital printing (sheet printing, small runs)
Email:sticker.com.ua@ukr.net - Flexo printing (roll printing, large editions)
Email:vob.print@gmail.com - Digital printing (sheet printing, small runs)
sticker.com.ua